iZoom removable vinyl Track Day number sets
By: Scott Laudenslager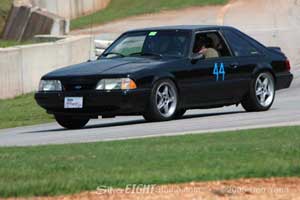 I have been looking for an alternative to using painter's tape for track day numbers. I wanted a more professional appearance but I didn't want a permanent number. My ideal solution would be a large, bright number that I could remove or change. I looked at several materials, but each had drawbacks that made them an unacceptable solution for my application. At first I though magnetic numbers would be the hot setup, but after hearing numerous reports of flying off at high speeds, I then looked at static cling numbers. The problem there was the same as magnetics, unless the surface was surgically clean, the number could fly off. Also, the static cling material sometimes required clear backing material.
What I really needed was a number set with the look and adhesion of traditional vinyl, but with the ability to be removed and reapplied many times. I saw some suppliers that offered reusable vinyl, but they generally only offered it in white, or had some other limitation.
While checking out the ads in the back of Grassroots Motorsports Magazine, I saw an ad for a company named iZoom Graphics. They offered their number sets in traditional vinyl, magnetic and… did my eyes deceive me?... reusable vinyl! I read and reread the site looking for the same catch I saw on other sites; no colors. A quick call to the company confirmed that I could get and number style, color, and size in the reusable material! The reusable vinyl is indeed white, but iZoom covers the white with your chosen color of traditional vinyl, this results in a thicker number than standard vinyl, but the thickness makes it easier to remove and reapply the numbers without damage.
I immediately placed my order for a number set. iZoom offers several sets tailored for different needs. They offer autocross sets, race sets, and track day sets. The track day sets consist of two sets of three numbers and no class designation. They are available in 8", 10", and 12" numbers. If you are competing in NASA HPDEs, they require at least 10" tall numbers. The number of available styles and fonts is small, but the available fonts should work on just about any car. I ordered the 12" track day numbers in Fire Red with a white outline. My idea was to apply two of the three numbers and keep the third to apply in case my first number choice was taken at an event.
I placed my order on a Monday, I received a shipping confirmation email on Tuesday and my number set arrived the following Monday. The package survived the shipping well and, upon opening, I was greeted with a stunning set of numbers. I noticed that the white, reusable vinyl material was used for the outline and the Fire Red as accurately placed on the white to produce a perfect outline. The vinyl felt thick, but not overly so.


I wasted no time and installed my new numbers. The results look great and exceeded my expectations. The numbers lay down well, they conform to uneven surfaces, and they are easy to remove. They can be stored on their backing paper and stored in the shipping box to keep them flat, dry and clean. Repeated applications and removal to align them had no ill affects. They look like they were never removed. The extra thickness did help in that regard. At a recent track day they performed as if they were permanent numbers. Just compare the new look with the photo at the top of this page, quite an improvement.
If you need numbers for your race or trackday car, I highly recommend iZoom Graphics. They have great products, great service and quick turnaround. They will also do custom work if their standard offerings won't do for your application. Give them a try.

[ Back ]