"Track Stands" From Beaumont Metalworks
By: Dean Harisis

Portable Billet Track Stands
For many of us, our track cars often serve a dual purpose. Sometimes it's a "recreational use only" vehicle that sees limited street time. For many others, they also serve as a daily driver. And, if you're like me, having the luxury of a trailer/tow rig is just impractical. So bringing the right amount of tools to the track is always a challenge, especially when a floor jack and the necessary jack stands are required for a pit area repair, tire change or a quick brake/clutch/suspension adjustment.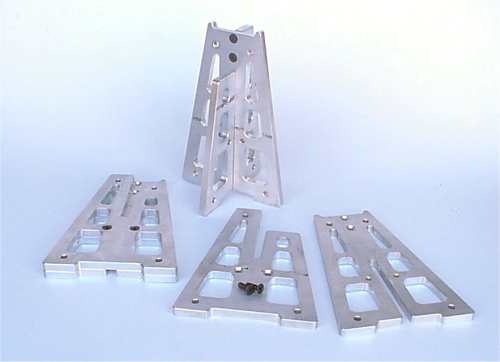 I found these billet "Track Stands" from Beaumont Metalworks. They are CNC machined from lightweight ½" thick 6061 aluminum plate, and each stand is comprised of two, interlocking pieces. Hardened, recessed bolts secure the two halves in either the flat "stow" configuration or the cross-pattern "pit" configuration. In the flat position, they stack nicely in a small package and can be easily stowed away with my other equipment until I get to the event. At the track, they quickly assemble and are ready for use. Rated at 5000lbs per stand, they will support the car a full 12" and you really only need a small bottle jack to make it all work (also easily stowed). A built-in step or perch on one side of the Track Stand allows the user to utilize a small bottle jack in both the standard and extended ram configuration. Due to the typically short stroke of bottle jacks, it may be necessary to raise the car in two lifts utilizing the step on the Track Stands as an intermediate position while re-positioning the jack. It is a great feature if your space is limited to a small jack.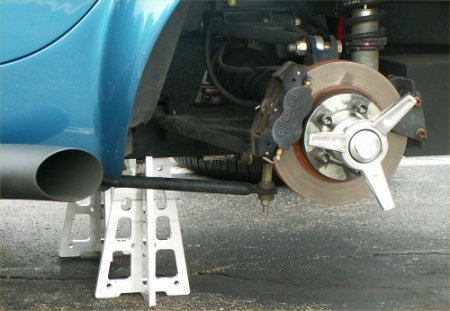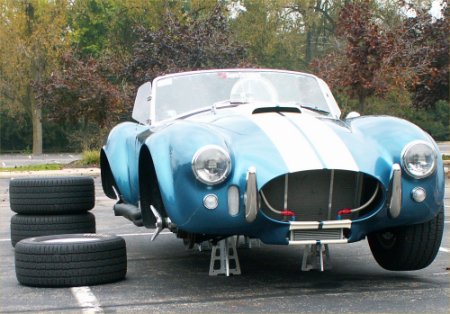 I used my credit card and bought set from the web site at $89.95/ per pair and about $10 for shipping. I was pleased with the prompt service and quick arrival. The craftsmanship is top notch! You no longer have to compromise your safety when you need a quick lift away from home. Portable, lightweight, strong and attractively priced….just what the doctor ordered!
[ Back ]